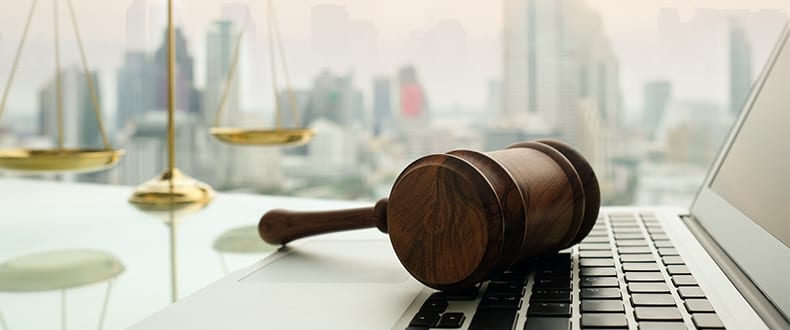 Your website is your business card. As such, you need to make sure it includes all the pertinent information about your law firm. There are no hard and fast rules you have to follow for your attorney website design. However, generating leads and building trust with prospective clients on your website isn't easy.
Law firm websites need to offer a professional and welcoming atmosphere that provides valuable and actionable information. There are a few things you can do to optimize your web presence.
Create and Update Your Blog
A blog is essential for any company, but can be invaluable for law firms. If you don't have a blog, you're missing out on an opportunity to engage potential clients and offer up-to-date legal information about a variety of topics. As such, having a blog is a must.
To be clear, it's not good enough to just have a blog. You also have to update it routinely (at least once a month) with relevant and valuable information. Blogs are a great way to offer and index a wealth of important legal facts.
And this isn't just for the benefit of your readers. It can also help you with search engine optimization if your blog posts start to generate hits.
Use Reviews and Testimonials
No marketing tactic is as old or as effective as word-of-mouth testimonials. Many people are more likely to buy a product or use a service if there are positive reviews available.
Make your reviews and testimonials easily available on your website. Encourage your clients to leave reviews on sites like Google+ or Yelp to increase legitimacy. Always be sure to ask permission to use any testimonial and keep client names from being readily identifiable.
Even video reviews can be used with the permission from the customer. In the end, reviews can give your law firm a sense of trustworthiness and credibility that you couldn't produce in any other way.
Get with the Responsive Wave
Website responsiveness is more important now than ever before. Internet users are increasingly searching the web with smartphones and tablets, meaning that websites need to be readable on those devices.
A responsive law firm website design ensures that anyone who looks at your website on any device will be able to comfortably view and engage with the content. This improves both the user experience and your website's SEO.
Make Contact Easy
Contacting any law firm from a website shouldn't be difficult. Attorney website design should provide easy access to contact information like phone numbers, emails, contact forms, and addresses.
If this information isn't readily available, then prospective clients may want to take their buying power elsewhere. Be sure to keep a phone number visible on every page. If you can, add a live chat function that can immediately connect clients with your firm.
Link Your Content
Most law firms are going to have a variety of practice areas and it would behoove you to link your content to them. Blogs are great at explaining current events and important details, but they can also be used to link to other, more actionable areas of your website.
For instance, let's say you have a blog post about new personal injury laws in your region. You can easily insert a link to your personal injury practice area within the blog post to ensure that clients can seamlessly move throughout the website.
In fact, if different practice areas are mentioned on different pages, you can always place a link there, too. Anything that makes your website more navigable and makes your services more apparent is always going to be positive for you. Also keep link diversity in mind when you start linking to different content.
Avoid Stock Photos
Stock photos are good for businesses where a personal touch isn't exactly a prerequisite. Lawyers, however, need to have a personal touch. After all, you're going to be working with your clients one-on-one often for lengthy amounts of time.
To add a personal touch to your website, simply use photos of actual staff members. There's nothing better than going to a website, seeing pictures of people, and then recognizing those people when you come in for a meeting. It undoubtedly makes prospective clients feel more comfortable.
Staff photos can be placed virtually anywhere, but it would also be good to have photos in an "Our Team" section or on individual staff pages.
Does your website include these items? Looking to update your site to get more leads? Reach out and find out how we can help you with website design and SEO.