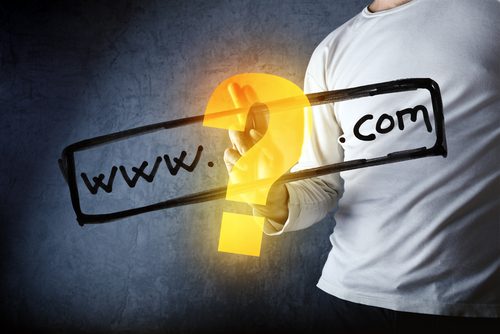 Choosing a domain name for your law firm is one of the most important decisions you'll make when it comes to marketing your firm online. Your domain name not only helps identify you as a law firm, but it also plays a significant role in your firm's search visibility, online branding, and even your offline advertising activities.
Unlike the physical world where a building or neighborhood can provide an impression of your law firm or clues to what you practice, the digital world is left entirely up to imagination. This is why it's important to choose a domain name that helps potential clients understand what your firm is all about. Before purchasing a domain name think about what it says about your law firm. What message does it convey? Is it easy to remember? And even more importantly, is it easy for people to spell without typos?
Keep It Simple
Try it keep your domain name as short as possible with keyword rich identifiers, such as your area of practice and location. For example, if you're a divorce lawyer in Iowa try registering IowaFamilyLaw .com, DivorceLawIowa .com or even IowaDivorce .com. Not only do these domain names help with search visibility, they also clue in visitors to what your law firm does and where you practice. If those keyword rich .com domain names are already claimed, here are a few other things to consider before choosing a domain name:
Don't Use Word Separators
While there are many high ranking domains out there that use hyphens, it's best to avoid using word separators in your legal domain. Thanks to spammy websites that use hyphens to stuff their domains with keywords, Google now looks at domains with word separators as less credible than others. Because hyphens can serve as a spam signal, it's now considered best practice to avoid hyphens in your domain name altogether.
Keep It Short
The longer the domain name, the more spammy it looks. Google suggests keeping domain names under 15 characters in order to make it easier to remember, type into a browser, and share across the internet. A shorter domain is also less likely to be spelled wrong and redirected to an error page – which just makes it harder for clients and potential clients to find your website. However, while a shorter domain is considered best there are always exceptions to the rule. For example, the domain MedicalMalpracticeLawyer .com is longer than 15 characters, but it is still easy to remember, spell without typos, and is keyword rich.
Avoid Uncommon Top Level Domains (TLDs)
A Top Level Domain is the extension that comes immediately after your domain name (.com and .net are the most common). Avoid registering your domain with less common TLDs, such as .info or .cc, as they are often used for low quality websites and can be a spam trigger to Google. While the new .law domains can provide some value to law firms that are starting from scratch, it's best to stick to with well known TLDs that are easy to remember and provide credibility to your website.
Need help choosing a domain name or creating a legal website? Contact us for more information.