SEO is one of the best ways to get new clients as a lawyer. While it is somewhat of a long-term strategy, it is also incredibly reliable and works almost on autopilot once it gets going. A long-term investment some could say.
That being said, ranking for keywords related to the law firm's highly competitive niche isn't as easy as it could seem. Google contemplates several ranking factors you need to take into account in order to create an effective search engine optimization strategy. 
With this in mind, let's take a look at some of the most important Google ranking factors that you should be aware of when it comes to SEO for lawyers:
Top 3 Google Ranking Factors For Law Firm Websites
We like to summarize ranking factors into a 3 steps structure that helps us simplify the whole idea whenever introducing or reviewing the concept.
Authority <- Basically boils down to Backlinking
Content <- SEO optimized pages with great content
Technical <- Base of a healthy site and the whole strategy
Even though technical SEO is the base of the structure we'll leave it to the last since it's a bit more complicated and potentially overwhelming.
1. Content
"Content is king". Everyone ever involved with SEO has listened to this at least once. Even though content can't be 100% of any successful strategy, the statement is somehow true since great content is actually the foundation of everything else above Technical SEO.
What makes good SEO content?
While you may be thinking that content that checks all the boxes such as keyword density, word count or exact match keyword usage is the best for ranking on Google, there is actually one more obvious factor that you should be focusing on first: Search Intent.
RankBrain
RankBrain is a machine learning technology that allows Google's search algorithm to improve over time and handle more obscure searches. In other words, it focuses heavily on "search intent" which is a much more abstract concept that normal algorithms may struggle with.
Search Intent means your content needs to be accessible and useful to as many people as possible and, most of all, it needs to match whatever the user is trying to look for when typing a keyword on Google's search bar.
Google's Vision for Content
For years now Google's algorithm has been constantly trying to switch to a people-first one, where the creators with the most original and pleasant content are the ones getting the first page spots.
It's easy to see where Google is pointing by taking a look at the latest important algorithm updates:
This is to prevent people from trying to game the system with mass-produced low-quality content that is actually not valuable for real people and is otherwise "SEO perfect".
Think about it this way: Google is just like any other business. They need to profit. Their model is to offer the best user experience so people will rely on them again whenever they are looking for something else (hopefully for stuff to buy).
Having repeated the process for millions and millions of users all over the world, their browser becomes an interesting place for other businesses to advertise. The more satisfied users Google has, the more money they can make out of it, and if you help Google achieve that then you're going to be rewarded by being put on the best SERP spots.
Even so, other content ranking factors should not be ignored once you've accomplished a good search intent match. This being the case, let's take a look at the most critical ranking factors for content in SEO:
Keyword Usage
Using keywords to improve your ranking with Google is very straightforward. Even though the algorithm has become pretty clever it's still necessary to give it the right signals for it to read, interpret and understand your content the right way.
Keyword Research

: Firstly, you need to make sure you're targeting the correct keywords. The way to do it is by performing a correct

keyword analysis/research

, which we cover in detail in our blog.

Keyword density

: You'll find opposite opinions when approaching this topic. From our point of view, keyword density is not something you should focus on anymore since 10 years ago. There's no magic number or percentage. Use the keyword just the number of times it's needed for the user to get the point, and avoid

keyword stuffing

by all means (this is a practice that could lead to penalizations).

Word Count

: Essentially the way to go here is to benchmark your Practice Area competitors to draw an average and adjust your page's word count to it.




Now, it's important to use this only as a guide but not be limited to it. Always have in mind the

search intent

first and contemplate the possibility of having more or even fewer words. Whatever is good for the user is good for your page.




We have encountered scenarios where just reducing the word count of our "car accident lawyer" page led us to rank better.

Exact Match Keyword Usage

: From our experience, exact match keyword usage is still needed for some instances. We have found over time and by running several tests that having an exact match of the keyword (especially for commercial kws such as "personal injury lawyer" ones) as the H1 and Page Title gives us better chances to rank.
Don't be afraid to be more specific and target different commercial or informational terms other than the "personal injury lawyer Denver" type. Use semantics to identify terms that hold traffic value for your law firm and practice areas.
Also, remember that there is more to choosing your keywords than just coming up with them off the top of your head. Instead, use keyword tools to do keyword research. This will give you a better idea of which ones work best for your demographic. It will also let you know the most competitive ones and which ones are the least used.
Freshness
Freshness is a fairly new concept SEO-wise but it just comes down to three concepts: frequent updates, recent events/hot topics and originality. 
Frequent Updates
The first concept, frequent updates, is pretty self-explanatory. The more up-to-date your content is, the better in most cases. This applies to both your practice area pages and your blogs/articles.
The trick here is in determining which pages and posts you should update and which to leave alone. Generally speaking, the ones still getting acceptable levels of traffic shouldn't be your priority while the ones that have sagging stats should be updated. Very simple.
Recent Events / Hot Topics
As for recent and reoccurring events, this can be taken advantage of by relating your content to newsworthy happenings. For example, if you are a family lawyer and there is a big story in the news about a celebrity getting divorced or losing custody of their children, you could create a post about that and use it as a segway to talk about your services.
Originality
Last but not least, originality is a concept that you need to take into account. The purpose of "fresh" content is also to be valuable and original. Google's not going to reward you if you just straight copy/paste chunks of text from another law firm's content.
E-A-T
E-A-T is not a ranking factor but features heavily in Google's Search Quality Evaluator Guidelines.
E-A-T stands for expertise, authoritativeness, and trustworthiness. While these may seem like pretty abstract concepts, Google does take them seriously as ranking factors. Fortunately, checking the boxes for these factors is more straightforward than you may think.
Expertise

: Being a lawyer, expertise and trustworthiness should naturally show in your content. This is because it will contain accurate information in a very specialized area.





If you write the content yourself you have nothing to worry about, but if you're working with an agency you need to make sure they are ready to write technical, specialized content for the legal niche.

Trustworthiness:

In addition to what was mentioned above, one great way to increase your trustworthiness is by highlighting the credentials of your content creators and the website (Badges, awards, mentions, testimonials, among others).





It can be a good idea to feature an author bio (the main lawyer's bio) at the bottom of your articles to show off this.

Authoritativeness

: When Google talks about authority, it means your reputation.





It has more to do with links. Both your outbound backlinks and the internal links coming to your website. That's why you need to write

linkable content.





There are many ways to approach this tactic but the fastest way to do it is by writing and preparing your content by thinking of it as a legal source. People all over the internet love to link sources (to save them some hard work while writing an article).





While building backlinks from authoritative external sites can take time, you can make sure that your posts all have outgoing links to authoritative sources to let Google's crawlers know that your content is reliable.
Internal Linking
Your internal linking structure consists of all the links on your site that link to other parts of it. For example, if one of your posts contains a link to another related post, that's an internal link.
Optimizing your internal linking structure is important because Google's crawlers will analyze it and use it as a ranking factor. To do this, you must ensure your links are orderly, helpful, and make sense. Good anchor text is a must and broken links should be removed ASAP.
Internal Linking serves three main functions:
Pass authority 

Correct Indexation

Improve User Experience
Pass Authority
As previously mentioned, backlinks pass on their domain authority to the site they're linking to. However, when it comes to internal linking the authority comes from your own content. 
For example, a page that has high authority because it has been linked by quality external sites can pass on some of that authority by, in turn, linking other internal pages and posts on your website.
Anchor Texts for Internal Linking
Same as with backlinks, anchor text is the text of the link itself when it comes to internal linking. The more related anchor text is to the page it is linking to, the better. Google has also said that anchor text should be short, and descriptive, and avoid keyword stuffing.
2. Backlinks
First of all, let's define the concept of a backlink. A backlink is any link to your website from an external source. For example, if you're listed in a lawyer directory and it links back to your website, that is a backlink. 
This is in direct contrast to internal links, which is when you link one page of yours to another.
Backlink Acquisition for Lawyers
There are many ways to acquire backlinks in the legal niche, but some of the most important ones and well known include: 
Classic link outreach

Citations

Business Listings / Profiles

Guest Posting

Linkable Assets 

Serve as a source for reporters

PRs

Among others
What makes a high-quality backlink?
A high-quality backlink for SEO purposes (and generally speaking) typically consists of five main factors:
The link is in the content, not the footer, header, sidebar, etc.

The link comes from a high-authority domain

The link comes from a domain with fewer outgoing links

The link contains a relevant

anchor text

The link is "do-follow" not "no-follow"
Since these factors are so important, let's go over each one individually as well as a few other related concepts you should know about when it comes to Google rank for websites.
Context
The context of the website where the backlink is coming from is hugely important as well. Google takes into account contextual and local relevance whenever evaluating the value of a backlink. 
Even though getting backlinks from sites that cover random topics like architecture or travel it's probably not going to hurt your site, the best practice is to point your strategy to get those backlinks from more relevant sites such as law forums, local community magazines, or business blogs.
Do-follow vs No-follow backlinks
This is a very simple concept. Most links are "do-follow" by default and will pass on ranking power to the website being linked to. 

On the other hand "no-follow" is a link that has specifically been configured not to give any ranking power to the site it's linking to. As you can guess, you typically will want do-follow links for your SEO strategy.

Websites typically declare some links as "no-follow" in order to avoid passing too much of their own domain authority.

That being said, even though "no-follow" ones won't make you rank higher they still can hold value if they are coming from a site with high relevant traffic.

Imagine you get the opportunity to be featured in a Forbes article with the name "Best US lawyers of 2022" with a "no-follow" link. Would you pass on? Probably not because it's common sense to think that article could lead relevant traffic to your site and also give you some authority in the overall legal industry.
Authoritative Referring Domain
Again, very simple. The more domain authority a site has, the more it can pass on to sites it is linking to. There are multiple backlinking strategies but this can mean that you're better off focusing on getting a few high-domain authority links rather than trying to farm hundreds of low-quality links.
There's not a single source that can tell you the ultimate exact domain authority from a site. There are a lot of tools out there that have their own metric of domain authority and name it differently, but you'll find all of them are pretty close to each other. Some of the best are:
Ahrefs: Domain Rating (DR)

Semrush: Domain Authority Score (DS)

MOZ: Domain Authority (DA)
Anchor Text
The
Anchor text
is the text that contains the actual link, and it'll look something like this:
anchor text

The more closely related the anchor text is to the content on your website it is linking to, the better. For example, if your post is about divorce proceedings, a link with text like "family divorce lawyer," would make good anchor text.
Some other types of great anchor texts are:
Variants of your main practice area like "injury law firm" or "accidents attorney" (supposing you litigate personal injury)

Semantic words related to your practice area like "car accidents" or "medical negligence"

Your firm's name

Your domain name
3. Technical SEO
We define technical SEO as the group of practices that involve some level of technical knowledge to optimize and it's definitely the foundation of every successful SEO strategy. 
Let's not forget that Google is ultimately a machine and the best we can speak its language the easier will be to convince it to treat us well.
There's a debate about when one can start to talk about "technical" SEO but we'll cover here the most relevant topics/factors for law firm websites.
Page Speed
Page speed is an important on-page SEO factor that gains more relevance with every new update. 
The idea behind it is very simple. The faster your page loads the better. Many factors can contribute to this though, such as avoiding unnecessary duplication in your code and your info cache for each visitor.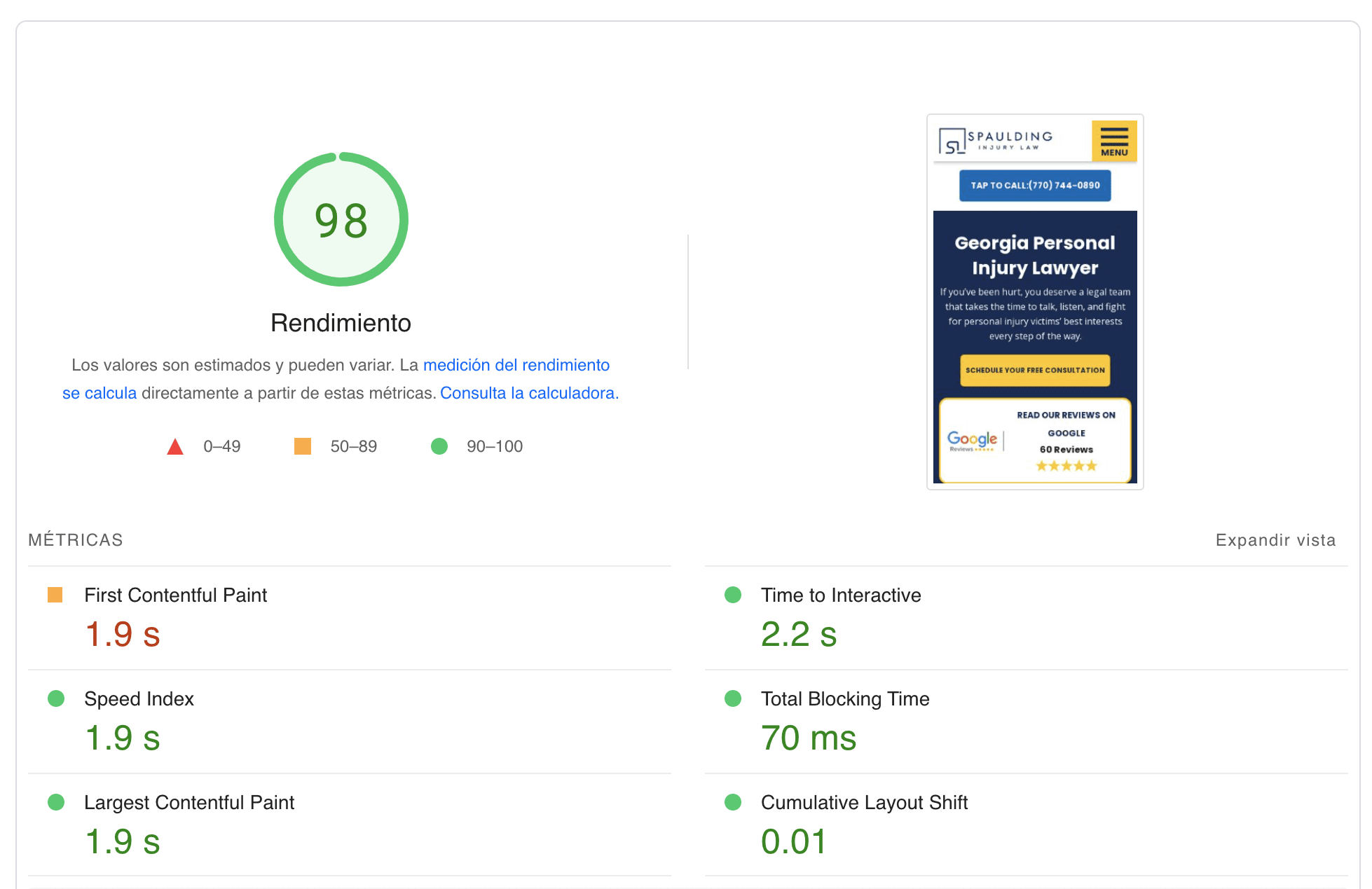 If you use a CMS such as wordpress to manage your site (which is the most common in the law industry) then it could be a bit easier for you by using help from plug-ins such as wp rocket, but every site is different so it's possible that won't be enough.
The best way to go here if you only practice law, do marketing, and have never touched a single line of code is to rely on a dev team that can assure you a good performance for your site.
Core Web Vitals
Core web vitals are a very important group of factors closely related to page speed and things like page layout and other technical matters. 
What Is a Core Web Vital?
A core web vital is an SEO factor that directly affects the technical aspects of a website and determines the user's page experience. The three original core web vitals are:
Largest Contentful Paint (LCP)

First Input Delay (FID)

Cumulative Layout Shift (CLS)
Let's go over each one of them and see how they can affect your SEO.
Largest Contentful Paint (LCP)
Essentially this measures how long it takes the main content of a page to load (usually the biggest image/video). The faster, the better.

First Input Delay (FID)
FID is how fast your website responds to inputs such as visitors clicking on links. Once again, the faster things load, the better it is for SEO.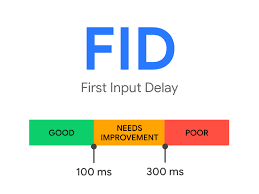 Cumulative Layout Shift (CLS)
This is a measure of how much the layout shifts when a web page loads. The more it shifts, the worse it is for SEO because it can be distracting and inconvenient.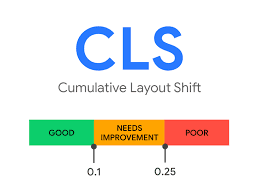 New Core Web Vitals
Responsive Design
Not so long ago, Google changed their traditional crawling bot for the mobile-first bot to be the default one. This means that Google is going to prioritize the mobile version of your website over the desktop (traditional) one. 
These kinds of decisions highlight how important mobile devices are for both the users and the search engines.

Having your website correctly optimized for mobile devices (responsive design) is imperative to rank for your most important keywords.
3.1 Page-Level Factors (Technical SEO)
H1s
Your H1 tag is your title. This tag must have your main keyword in it to let Google know what your post is about. 
That said, your H1 should still be well-written, not just keyword-stuffed nonsense, or you could be penalized.
We've found over time using an exact match of the keyword for commercial terms such as "Chicago personal injury lawyer" has delivered the best results. On the other hand, for blogs and articles, we have taken the liberty of twisting the H1 for CTR purposes with success.
HTML Heading Titles (H2-H6)
Your H2-H6 headings are also important. Once again, make them keyword-rich without overdoing it for the best results.
A best practice is to go for related terms or "people also ask" to write about.
Meta Data
The metadata consists of information that appears in the code but not on your actual website. This includes things like the Page title and meta description of your pages, but also tags, image descriptions, and image titles. 
Making sure that you have good metadata is an important part of SEO since Google's crawlers will look for it.
Page Titles
The titles of your pages are just as important as the titles of your posts. However, page titles should be very short and descriptive.

From our experience, an ideal Page title for a page that ranks for a commercial term should look something like this:

An exact match of the keyword | Firm Name (Alternatives can help you improve CTR, don't be afraid to test)

Focus on making your page titles as helpful and coherent as possible to improve navigation.
Meta Descriptions
Even though meta descriptions are not a ranking factor on their own. They can help you get more clicks (Increase your CTR) and therefore more traffic.

Your meta descriptions are the blurbs that accompany your post title when your posts show up in the Google search results. You don't need to make them keyword-rich, but make sure that they give readers a reason to click through to your website.

Like meta descriptions, there are some other factors under meta data that you should be aware of (even though there are not ranking factors on their own). Some of them are:
Image Optimization
Images on your website need to be optimized in both their placement and in terms of metadata such as alt text and title.
When it comes to the alt text, which is by far the most popular metadata format for images, you should keep it simple. The purpose of the alt text is to serve as an alternative for visually impaired people.

Thinking this way, you should focus on making them as descriptive as possible. Avoid keyword stuffing by all means.

Using an alt text will also help Google's bot determine what your image is about and grant you a chance to appear on Google's image results.
Website Architecture
As we have alluded to, the architecture of your website is very important. A good architecture that's easy to navigate will boost your SEO by helping you achieve a correct indexation and hierarchy for your pages, while a cluttered and chaotic site design will work against you. Here are some of the most important factors for good website architecture.
URL Structure
The structure of your URLs should be clean, simple, and intuitive. We can summarize the best practices for law firm URL structures into:
Keep your URLs short. As a rule of thumb don't exceed 3-4 words or 75 characters. (even though the official documentation specifies a maximum length of 2048 characters it doesn't mean we want to reach that number at all).

Use an exact match of your main keyword.

Avoid unnecessary /paths/
Internal Linking
As we mentioned before, optimizing your internal linking structure is important because Google's crawlers will analyze it and use it as a ranking factor. To do this, you must ensure your links are orderly, helpful, and make sense of the structure and hierarchy of your website.
The Best Way To Rank On Google
If you're a lawyer in high demand, clients should direct your effort and attention, which is what matters. You might have the chance to achieve that while also improving the likelihood that the website for your business will rank by hiring an attorney SEO company.