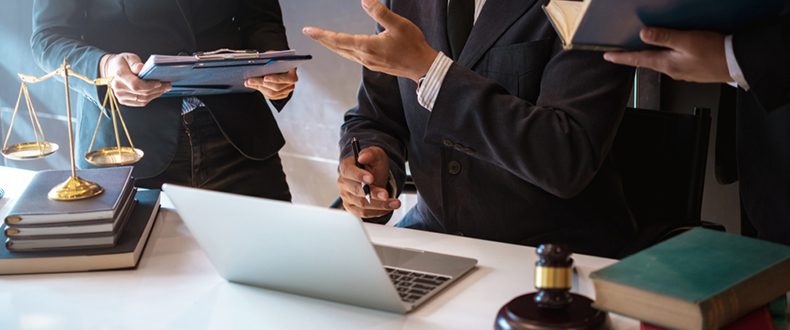 If you run multiple offices for your firm, you already know how difficult it can be to coordinate the cases you are working on. If you have decided to take on the task of legal content marketing, you will find the process will not be any easier. When managing your content marketing strategy from multiple locations, here are a few things to keep in mind.
Organize Everything in One Place
When you are working on a case for a client, chances are you do not have pieces of the file spread out in different office locations. While there may be multiple offices working on the case, there is always a central file that everyone can access. Content marketing for law firms should be no different.
There are numerous ways you can organize everything. The easiest is with websites such as Trello or Clipix. You can also host a central file from your own server, allowing access to everyone from multiple locations.  I prefer the former as you don't have to worry about downtime or paying someone in the IT department to come in when your server crashes.
Have One Person Responsible For Everything
Ultimately, you need only one person making final decisions. This should be the person in charge of finalizing and posting all content. Even though you have multiple people working on a project, the final draft needs to fall to one person.
Having one person will help alleviate any concerns your firm may have with wording. You don't want to publish something offensive or inaccurate so having that person do a "final" review will help keep that from happening. It will also ensure that the message you are putting out truly represents the firm.
Think about it. Would you turn in a brief to the court that was written by an intern without first looking at it yourself?
Always Enforce Deadlines
Failure to enforce deadlines can bring your content marketing strategy to a halt. If one person is waiting on another, it essentially creates a backlog and then no work will flow. This can cost you time as well as potential lost revenue.
It is imperative that you enforce deadlines to make sure that content keeps flowing. One office depends on the other to have their portion of the content writing done on time. Letting people miss deadlines without repercussions will only hurt your firm in the end.
Meet Regularly Face to Face
Having regular meetings will help keep projects on track and everyone on the same page. People working on the content will see each other and not just image them in an office elsewhere. They become real people who are relied on and not just figments of imagination.
In person meetings are always the best; however, distance will be the determining factor on how you organize the meet. If you are unable to meet in person, use apps like Skype or Citrix in order to do video conferencing. When you see actual faces, you will get the sense that everyone is working together, regardless of how far apart you are.
Final Thought on Managing Content from Multiple Locations
Regardless of how you decide to manage your content marketing from multiple locations, the fact is that you must do something. Failing to stay organized or have everyone on the same page can do your content marketing strategy more harm than good. Also make sure to task one person with the final review so that all your content reflects your firm's message.
If you are looking to for an agency to manage all your content for you, give us a call for a quote.