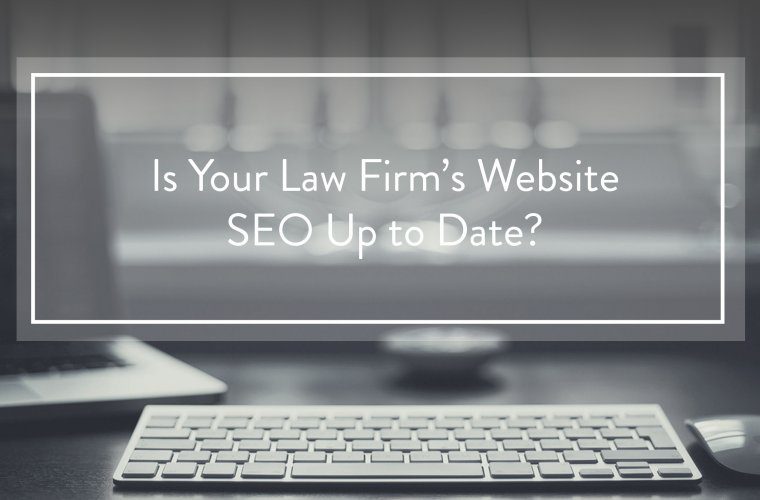 Are you an attorney? Do you work for a law firm in some other capacity?
If you answered yes to either question, you may be fully or partially responsible for creating and carrying out a comprehensive marketing strategy.
Law firm marketing encompasses a variety of tasks and responsibilities. For example, there is no replacement for a high quality, high converting website. Along with this, most law firms are dedicating resources to social media and content marketing.
At some point – sooner rather than later – you need to turn your attention to search engine optimization (SEO). As scary as this sounds, the right approach will put you on track to generating more organic search engine traffic than ever before.
Before we go any further, let's take a look at a basic definition of SEO (as shared by Search Engine Land):
"SEO stands for "search engine optimization." It is the process of getting traffic from the "free," "organic," "editorial" or "natural" search results on search engines."
While the definition is easy to understand, the act of pushing your website to the top of the search engines is easier said than done.
Are Mistakes Holding You Back?
You can have the best looking website in the legal industry. You can spend thousands of dollars on marketing related tasks every month. Even then, it only takes one SEO mistake to hold you back from reaching your goals.
Here are five of the most common SEO mistakes made by attorneys (and other legal professionals):
Spammy Link Building
Do you remember the days when every link was a good link? It didn't matter where it came from, as long as it was pointing back to your site.
Those days are long gone, with search engines, such as Google, placing importance on the quality and relevancy of each link.
Quantity over quality no longer works. Instead, it's better to have one high quality link than 100 spammy links.
Let's put it this way: if you have too many low quality links pointing to your site, it will have a negative impact on your search engine rankings.
Not Optimizing for the Right Keywords
Attorney SEO is all about optimizing your website for the right keywords.
For example, a lawyer in Chicago will want to optimize his or her website for primary keywords such as:
Chicago attorney
Chicago lawyer
However, it's just as important to focus on more specific keywords. An example of this would be:
Chicago personal injury attorney
Chicago, Illinois bankruptcy lawyer
Not only is it easier to rank for long tail keywords, due to less competition, but these are more likely to attract an audience that is most interested in your services.
Low Quality Content
Go back in time 10 years and high quality content wasn't something that most attorneys (among others) were spending money on. Instead, they realized that any content, regardless of the quality, would work in their favor (especially if it was packed full of the right keywords).
In today's world, low quality content does nothing for a website. Not only will it harm your search engine rankings, but it doesn't give visitors the confidence they need to contact your law firm.
If you don't have the time or skill to create high quality content, hire a professional writer to manage this task on your behalf. You'll pay more upfront, but the end result will be more traffic and conversions.
Ignoring On Page SEO
Many attorneys make the mistake of devoting all their resources to off page SEO, such as building links from high quality, relevant websites. While it's important to keep a beat on this, don't do so to the point of overlooking the importance of on page SEO.
Even you do nothing else in regards to on page SEO, you should always remember these tips:
Every page of your website should have a unique title.
Every page of your website should have a unique meta description.
Every page of your website should have unique, high quality content.
Keyword stuffing is a thing of the past.
It goes without saying that there is more to on page SEO than these basic tips. That being said, this is a good place to start.
Ignoring Key Metrics
How are you tracking search engine traffic?
If you don't have a program in place for doing so, such as Google Analytics, you're missing out on a boatload of data.
With the help of Google Analytics, you can answer questions such as:
What are your top traffic sources?
What are your top pages?
How many people are visiting your website?
What are people doing when they visit your website?
And that is just the start. Even if you don't understand every piece of data, it's good to have a tool in place for tracking traffic.
Conclusion
As an attorney, there's no denying that you have many tasks on your plate. Even so, if you want to grow your practice in the future, it's imperative to focus on search engine optimization.
The right SEO strategy will help your website generate more search engine traffic. As a result, you're in better position to convert these people into paying clients.
Many of your competitors are making a variety of SEO mistakes, such as those detailed above. By avoiding these same mistakes in the future, you'll put your website in position to receive more search engine traffic – and that's exactly what you want!